Wedges are the perfect shoe for the fall. Elegant without appearing too much like a summer sandal, they complement a range of fall clothing. In fact, some outfits even seem to be made to wear with wedges.
1. The Simplistic Look
Often, simple is best. With a plain top and pants or skirt, use wedges to give character to your look. The best wedges are those with an interesting pattern or embellishments.
2. Skinny Jeans
Skinny jeans with a black top are ideal as an outfit for a fun night out with friends. If the evening is likely to involve dancing, wedges are perfect. Choose black shoes to create cohesion.
You can also use skinny jeans for a casual daytime outfit. Pair them with closed-toe bootie wedges and complete the look with a pretty top.
3. Boyfriend Jeans
Boyfriend jeans are comfortable and practical, and you can keep your outfit girly when you add tall wedges. Wedges look great with boyfriend jeans when you roll the hems of the pants. Finish the outfit with your favorite t-shirt.
4. Bootcut Jeans
You can even wear wedges with bootcut or flared jeans, so long as the pants are long enough to cover the top of your shoes but not so long that they cover the wedges. Colorful wedges are an especially good choice, provided you match the color palette with your top.
5. Long Dresses
Long dresses are comfortable in the cooler fall weather and bring a sense of sophistication to casual settings. Show your personality by substituting stilettos for wedges. With a black dress, choose a different color for your wedges, like white, a shimmery tone, or even brown.
6. Flowing Skirts
Chunky wedges look great with full skirts and are a particularly good option if you are self-conscious about your ankles. If your skirt is a bright color, use black wedges. Bonus tip: never use wedges with pencil skirts or anything fitted.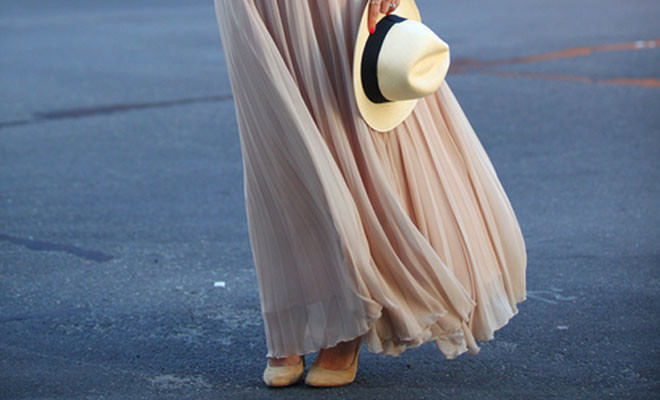 7. Formal Wear
If you are worried that the dress you want to use for an event may be a little too formal and you may seem overdressed, bring your outfit down a level with wedges. They have the added advantage of still giving you extra height.
8. Work Outfits
Switch from your regular pumps to a pair of wedges to mix it up at work. Such shoes are an excellent choice for a day when you will be spending a lot of time on your feet but still want to look your best.
9. Jumpsuit
A jumpsuit is a daring choice. If you want to own the outfit, wedges are a must. Pick shoes with a high heel — with this extra height, you'll have the confidence to wear your jumpsuit with pride.
As there are so many options to add wedges to your outfit, you need to have a variety in your closet. Pick styles that match the kind of clothes you will want to wear this fall.